Activities at MVUUF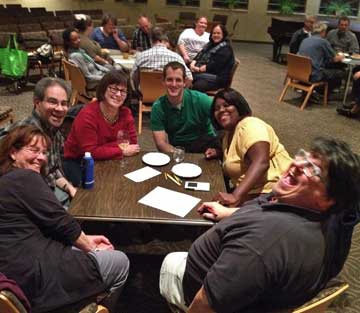 Activities and Events Keep Us Connected

MVUUF Activities include monthly community gatherings and on-going interest groups. Some of them are described below.
We also hold a variety of periodic and annual events for the entire community.
Becoming part of one or more of our variety of social groups allows us to know each other better and build the beloved community.
Beloved Community Gatherings
These gatherings are held on Friday evenings throughout the year. We begin with a spiritual ingathering, interact in a main event on a specific theme, and enjoy other complementary activities that appeal to all ages and a broad spectrum of the congregation.
Our gatherings have included movie and game nights, a labyrinth walk, a dance party, service projects, anti-racism discussion, and a sing-along. This helps satisfy a need to be in community with each other outside of Sunday programming.
Friday Movie Nights
From time to time the Anti-Racism Group sponsors films that raise consciousness about race, racism, and anti-racism efforts. Movie snacks and the opportunity to discuss these films make these evenings a rewarding activity.
Small Group Dinners
Members who want to participate take turns hosting monthly meals to share with their small group, providing a more intimate social setting to deepen relationships within the MVUUF community. Signups are held once or twice a year, depending on the level of interest in small group dinners any given year.