Food Justice Action Group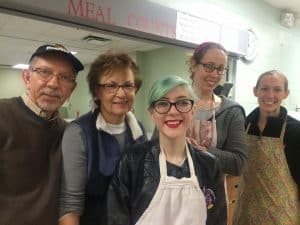 Feeding the Homeless – A complete meal is given and served to the residents of the St. Vincent's homeless shelter on the second Saturday of each month. Members of the congregation sign up to provide a portion of the meal, usually about 20 servings of a particular dish. Members also help serve the meal and engage in conversation with the residents. Sign-up sheets and instructions are on the Social Action table in the Gathering Space every Sunday.
Contact Lynn Buffington or Shirley Gezinski to volunteer.
Fair Trade Coffee

 – Fair Trade coffee is sold in the Gathering Space on the first Sunday of every month. Fair trade certification ensures that no slave, forced or child labor is used. Under fair trade, workers and small growers generally receive higher compensation and often some fair trade profits go to community projects such as water wells and health clinics.   Social Action Committee activities benefit from the small commissions received from our Fair Trade coffee sales. Contact Lynn Buffington to volunteer or order coffee.
Bread Runs – Every Thursday morning a MVUUF volunteer picks up donated bread and baked goods from the Springboro Dorothy Lane Market and delivers them to the food pantries at the Wesley Community Center in west Dayton and St. Paul United Methodist Church in east Dayton.   Contact Anwyl Scott if you'd like more information
Serving the Mentally Ill – On the third Monday of the month, several MVUUF volunteers prepare and serve lunch at The Castle in Centerville and socialize with diners. Some MVUUF members visit The Castle at other times. The Castle is a safe haven for those experiencing mental disorders. Contact: Mary Lou Heitkamp to participate.
House of Bread – Each Wednesday, MVUUF members and friends are invited to join two members who regularly volunteer preparing and serving meals at the House of Bread. Contact Mike Fanelli for more information.
Food Deserts – MVUUF is closely following and supporting the initiative to start a union cooperative grocery on Dayton's west side.
Fair Food Platform – Currently, there are advocacy efforts to urge Wendy's to join all other major fast food restaurants in signing on to the Fair Food Platform which means  "paying a penny more for every pound of tomatoes picked and also agreeing to a zero-tolerance policy for poor working conditions, child labor, and sexual harassment for Wendy's Florida tomato suppliers."   You can add your name in support at the Unitarian Univeralist Service Committee's site: uusc.org/action-center. To do more locally to urge Wendy's to sign on to the Fair Food Platform, contact Lynn Buffington.