Environmental Action
The Fellowship has a strong commitment to environmental sustainability. We previously had a specific committee on environmental action, the MVUUF Environmental Action Group. This group no longer exists as a specific committee, but individual projects and activities continue.
Some of our current and former projects include: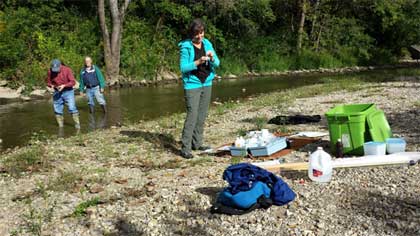 Leading worship services that focus on environmental issues
Conducting an energy audit of our facility with follow-up corrective actions
Providing information on ethical eating and other sustainability issues
Group clean-up projects in connection with the MetroParks
Water Quality Testing along Wolf Creek
The Miami Valley Unitarian Universalist Fellowship is a certified green facility based on a Dayton Regional Green (DRG3) review/survey.
We also maintain a wetland at the east end of our property and use it for educational purposes.
Additionally, we provide a paper recycling bin in our parking lot for use by members, friends, and neighbors.
The Environmental Learning Book Club meets every other month to read and discuss informative books related to environmental issues.  As of early April, we are currently reading The Naked Ape, by Desmond Morris, and Enlightenment Now (Chapter 10 only), by Steven Pinker. We will post a meeting date if we decide to meet online this month.
Check the Fellowship calendar for this book group and for events in general.