Environmental Action
The Fellowship has a strong commitment to environmental sustainability. We previously had a specific committee on environmental action, the MVUUF Environmental Action Group. This group no longer exists as a specific committee, but individual projects and activities continue.
Some of our current and former projects include: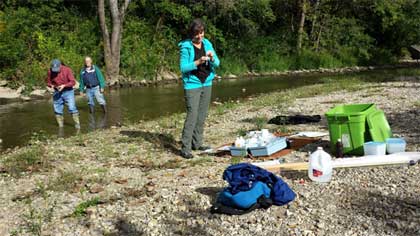 Leading worship services that focus on environmental issues
Conducting an energy audit of our facility with follow-up corrective actions
Providing information on ethical eating and other sustainability issues
Group clean-up projects in connection with the MetroParks
Water Quality Testing along Wolf Creek
We maintain a wetland at the east end of our property and use it for educational purposes.
We also provide a paper recycling bin in our parking lot for use by members, friends, and neighbors.
The Environmental Learning Book Club meets every other month to read and discuss informative books related to environmental issues.  We will meet next on Monday, April 15th, 2019 at 7:00 p.m.  We are currently reading a book by Derrick Jensen.  He is described as "an American author, anarchoprimitivist, ecophilosopher and radical environmentalist".  In 2006 he published a book called Endgame.  It is a series of two volumes, Volume I: The Problem of Civilization, and Volume II: Resistance.  We are reading the second volume, which is available on Amazon.  Jensen argues that civilization is inherently unsustainable. In Volume 1 he spelled out the need to immediately and systematically destroy civilization. Volume 2, Resistance, is about the challenging physical task that dismantling civilization presents.  He has a set of 20 premises.  One premise (quoting from Wikipedia) says that, "From birth on, we are individually and collectively enculturated to hate the natural world. … If we did not hate the world, we could not allow it to be destroyed before our eyes." Another premise is that the material world is primary and that we will need to face the mess of climate change ourselves. "Earth is the point. It is primary. It is our home. It is everything."
Check the Fellowship calendar for this book group and for events in general.