Anti-Racism Team (ART)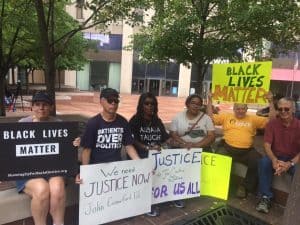 The Anti-Racism Team provides education, witness and advocacy around issues of racism. Educational campaigns include religious education classes and worship services for the MVUUF community, as well as workshops for the greater Dayton area.
ART has led and participated in vigils in response to shootings, such as the shooting of John Crawford III by police and the shooting of Black parishioners at the Emmanuel AME church in Charleston, SC.
Other educational efforts include showing films that raise consciousness about race, racism, and anti-racism efforts. ART has also encouraged letter-writing campaigns and other advocacy work to end racist policies and practices.
If you have questions contact Kathleen Pennington.