Sunday Morning Schedule
Classes and meetings before Service (9:30 to 10:45 a.m.)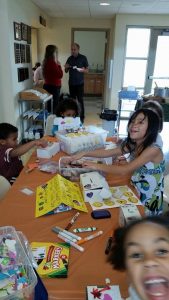 Our Parent Group, Community Discussion Group, Meditation Group and Women's Group meet before the Service. Visitors are welcome to drop in for any of these groups to participate and learn more. Free childcare is available for children through 5th grade so that parents and guardians may attend classes and discussion groups.
Sunday Service (11:00 a.m. to 12:00 p.m.)
Childcare is available in our Nursery for babies and toddlers through age 3 during the Service. On the first Sunday of each month, children in the Preschool class through 5th grade meet in the Founder's Room for special multi-age programming that includes music, art, nature, social interaction and other fun activities.
Most other Sundays, children above Nursery age accompany their families into the Sanctuary for the beginning of the Service at 11:00 a.m. and remain through Words for All Ages. After this, the children are "sung out" as the congregation sings a special song and the children walk with their teachers to their classrooms.
Exceptions to this schedule are Multi-Generational Services, which are held periodically through the year. These are interactive services planned with families, children and youth in mind. Nursery care for babies and toddlers through age 3 is available during Multi-Generational Services.
After Service
On all Sundays, YRE programming ends at 12:15 p.m. for all ages. This allows parents and guardians a few extra minutes to socialize in the Gathering Space before picking up their children. Please be prompt when picking up children so that YRE volunteer teachers have time to clean up and take care of Sunday morning business.
Please be aware:
– Children in 5th grade or below remain in their classrooms until a designated adult or older sibling picks them up.
– Youth in 6th grade or up may leave class independently; however, they must immediately join their family or guardian.
– Unless childcare is provided during a meeting or activity after the Service that a parent or guardian is attending, all parents or guardians are responsible for their own children after 12:15 p.m.