2016-2017 Youth Religious Education
 Sunday Morning Classes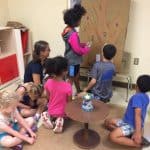 Please be sure to register your child or children prior to attending class on Sunday morning. This information helps us to learn names and point out their classrooms. The form includes space for you to write down any allergies or special needs – although we greatly appreciate you telling us in person when we meet you, too! The more we know about your child, the better experience we can provide in class.
Chalice Children – Preschool (age 3 by September 30, 2016)
Chalice Children builds a foundation for preschoolers' spiritual lives in Unitarian Universalism. It helps preschool children gain a sense of belonging to their religious community and the Unitarian Universalist faith when they have concrete experiences with its people and places.
Love Surrounds Us – Kindergarten through 2nd grade
How do young children learn about the seven UU Principles? In Love Surrounds Us, children discover the Seven UU Principles in the familiar Beloved Communities of family/home, school, and neighborhood. Children talk about and learn skills for forgiveness, love, sharing, acceptance, caring, and peace in a loving community.
A Stepping-Stone Year – 3rd through 5th grades
Sunday morning is the time for thinking and talking about the "big questions." Throughout history people have wondered about the beginning of the world and life on Earth, about why people die, and about right and wrong. Children will explore these and other questions the way Unitarian Universalists do: finding the answers for themselves.
Jedi Academy – 6th through 8th grades
Spend your Sunday mornings in Jedi training! Lessons are based on the five training categories of skill, senses, courage, insight and spirit. The focus is on a development of mindfulness, peace, and justice.
Beyond Sunday Morning
In addition to regular Sunday morning classes, YRE offers periodic "extras"  such as Our Whole Lives (OWL), comprehensive sexuality education classes, and classes that help children and youth explore their personal faith formation.