2017-2018 Youth Religious Education Sunday Morning Classes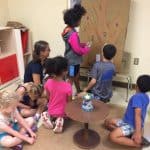 Please be sure to register your child or children prior to attending class on Sunday morning. This information helps us to learn names and point out their classrooms. The form includes space for you to write down any allergies or special needs – although we greatly appreciate you telling us in person when we meet you, too! The more we know about your child, the better experience we can provide in class.
The Rainbow Connection – Preschool (age 3 by September 30, 2017) and Kindergarten
A central concept of Unitarian Universalism is the seven Principles that all congregations affirm and promote. These Principles are considered to be strong values and moral guides that each of us may use to guide our lives. The Rainbow Connection uses story books for preschoolers and kindergarteners to discuss those values inherent in the Principles and in Unitarian Universalism.
Picture Book World Religions – 1st through 3rd grade
In Unitarian Universalist faith, we list "wisdom from the world's religions…" as one of the sources of our living tradition. We will share beautiful picture book stories from different faiths and help our young children begin a journey of understanding, tolerance and celebration for the diversity of human expressions of faith.
Bibleodeon – 4th and 5th grades
Bibleodeon is a Unitarian Universalist curriculum that presents the best-known Hebrew and Christian stories in a fun and informative way. The class will explore connections between biblical events and UU Principles, and between biblical ideas and their own lives.
D'Oh God! – 6th through 8th grades
Churches around the United States and the United Kingdom have begun using the animated television series The Simpsons as a valuable teaching tool, one that can be applied across a wide spectrum of religious beliefs. D'Oh God applies teachings in The Simpsons to Unitarian Universalist values and beliefs and uses pop culture to help our middle schoolers discuss important social issues and spiritual beliefs with their peers.
Beyond Sunday Morning
In addition to regular Sunday morning classes, YRE offers periodic "extras"  such as Our Whole Lives (OWL), comprehensive sexuality education classes, and classes that help children and youth explore their personal faith formation.