How to Get Involved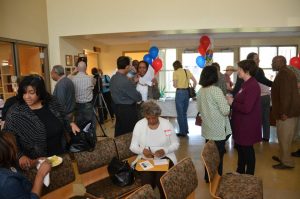 Come. Bring curiosity and an open mind. Know we are all on a path to find a better self and create a better world.
Learn. Discover what it means to have a personal faith that is anchored by diversity and acceptance. Join in creating opportunities for those who want to do more.
Stay connected.  Here are some ways:
Join the MVUUF Beloved Community Facebook group.
Talk to others during coffee hour. This is your time to meet people in our diverse community or explore the information tables to learn more about what we do. It is a great time to sign up and explore our varied activities.
Attend a Welcome Session. Welcome sessions are held on the third Sunday of each month after the Sunday service in the Founders' Room. This is a good way to learn more about MVUUF with other newcomers.
Attend an Adult Religious Education Class or social group. Several Adult groups, like the Community Class, Women's Group, and Meditation Group, meet at 9:30 on Sunday mornings. There is free childcare.
There are also book clubs, discussion groups and a variety of groups that meet at other times during the week. See the Programs and Activities section and the MVUUF calendar for more information about current offerings.
Attend a special event at MVUUF. A full range of special events, from movies to concerts to social gatherings, happen throughout the year. Look on the MVUUF Calendar or read the newsletter to find out more.
Interested in Social Action? Talk with people at the Social Action table in the Gathering Space after any Sunday service. There are many ways to get involved.
 Want to help with Sunday flowers? The sign-up clipboard is in the Gathering Space.
 Is coffee your passion? Volunteer for Sunday coffee hour either to make the coffee or clean up after. Contact Jim Poltrone.