Support MVUUF Through Pledging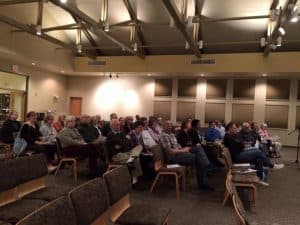 What would the Miami Valley be like without our Fellowship?
What does our Fellowship offer to the community and to you?
What do you want our congregation to be?
These questions should help our members and friends recognize the value of Unitarian Universalism to our community and to the world.
It is important for members and friends to support the work of the Miami Valley Unitarian Universalist Fellowship through a variety of stewardship efforts. Stewardship is an ethic of responsibility that sustains something of value. Stewardship is an ethic we all share to ensure MVUUF is here for you now, for our community now, and for this community in the future.
At MVUUF we practice stewardship in a variety of ways, from taking care of our facilities, supporting the work of our staff and volunteers, and using our many networks to communicate with one another. Financial support is one way we practice stewardship, and at MVUUF we pledge our financial support as a way of promising to help MVUUF be a sustainable community.
Members and friends are encouraged to give generously and in a way that reflects the work of the Fellowship. It is only through pledge contributions that we keep our doors open, provide fair and just incomes for our staff, maintain our facilities, and run our programs. By promising to make a financial commitment we can best create a budget that reflects our future.
We hold a pledge drive every year, usually in March or April. We use the amount pledged to create our budget, which pays our staff and maintains our facilities. Our pledge year, or fiscal year, runs from July first through June 30. We ask for a renewed pledge every year.
To make a pledge, please contact our office administrator Jennie Freiberger.
Uncertain how much to give? Our suggested giving guide may provide guidance or feel free to speak with our Fellowship Treasurer.
In addition to pledging, there are other ways to help the Fellowship earn money.  If you shop at Kroger or Dorothy Lane Market, find out how your shopping can earn MVUUF money.
An endowment of funds is another way to help provide long term financial security for the Fellowship.