Peace Literacy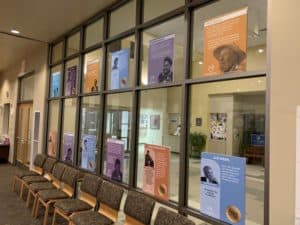 The Miami Valley Unitarian Universalist Fellowship's programming around Peace Literacy is a combination of both education and service.
Blessing and Opening of the Peace Heroes Trail
If all goes well with our local sign maker's supply chain, a small group of socially-distanced MVUUF folk will start installing our peace hero signs along the sidewalk in front of MVUUF — by our building, not the road — on Saturday December 5! We will set up a time for each peace hero team captain to be photographed with their sign once signs are in place. Saturday December 12 is our tentative date for Reverend Kellie to bless the Peace Heroes Trail and officially open this beautiful new addition to our MVUUF campus.
MVUUF members and friends, you are welcome to check on our progress at any point. We plan to post photos regularly through regular fellowship communications. You are also welcome to visit MVUUF in person, maintaining social distance and wearing masks, to see the beautiful Peace Heroes Trail in person.
While you are visiting MVUUF's campus, take a few moments to enjoy the newly-trimmed labyrinth on the hillside south of the sanctuary. You can learn more about our unique meditative pathway, designed and created for MVUUF by member Gail Cyan, at https://mvuuf.org/about/building-and-grounds/labyrinth/ . It takes about 15 minutes to walk it.
If you are wearing waterproof hiking boots and up for extremely uneven terrain, you are also invited to wander the short loop that was just mowed through our MVUUF wetland behind the building. It might someday become the site of a smooth boardwalk. In the meantime, it is a pathway in progress, so non-mountain climbers please admire from a distance.
****************************************************************************************************************************************
Below is some history of starting our Peace Heroes Trail:
SOME GREAT NEWS! Many generous donors contributed toward the installation of a Peace Heroes Meditative Trail on the campus of MVUUF!
As many of you know, this project began as a continuation of the annual Peace Heroes Walks that had been taking place in the Miami Valley for the past five years or so. In the midst of the pandemic it has been reinvented to meet the challenges of these present times we are living in and through.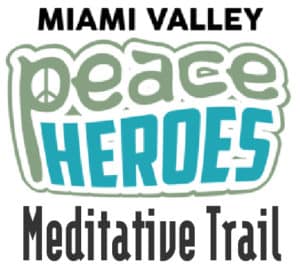 FIRST IN THE NATION. Celebrating its status as the first Peace Heroes Trail in the nation, our fundraising event this past summer raised funds to help support local peace literacy work right here in the Miami Valley. More specifically, this year's local designee of the funds is the Miami Valley Unitarian Universalist Fellowship. 100% of the funds after event expenses are designated for the peace literacy work conducted by MVUUF in collaboration with many community partners (see list of activities here).
The project will feature attractive trail marker signs on the MVUUF campus plus a Virtual Peace Heroes Trail that can be accessed while touring the site. Fundraising teams selected Peace Heroes to honor and provided summary info that is placed on the markers. Each team has their own page online that also provides information and a video or photo that helps the public-at-large get better acquainted with their Peace Hero.
EIGHTEEN PEACE HEROES SO FAR. This past summer we had 18 Team Captains who selected a Peace Hero and helped their team raise funds to stimulate peace literacy in the Miami Valley. Here is a link to the project website: peaceheroeswalk.org. Click on "Visit" by the names of the Peace Heroes to read the very interesting information about them.
SPREAD THE INSPIRATION. For a little inspiration, take a listen to the song written by project coordinators, Rev. Kellie Kelly and Jerry Leggett, Be a Hero Now.
CELEBRATE THE POWER OF THE WE! More than ever, our world and the Miami Valley needs Peace Heroes to light our way! Please join this community-wide effort to lift up the everyday people around the block and around the world who inspire the power of the "we" to help Miami Valley better thrive!
MAKE A DONATION TO THE PEACE HEROES PROJECT IN HONOR OF A PEACE HERO. Follow the link provided to help us build the Peace Hero Meditative Trail on the MVUUF campus and to help raise funds to support local Peace Literacy programs that help the Miami Valley thrive. Donations for the current fiscal year closed June 21st, 2020. https://ssl.charityweb.net/21cplf/miamivalleypeaceheroeswalk/
Information about the upcoming year will be posted when it is available.
SOURCES OF MORE INFORMATION:
Websites –
21st Century Peace Literacy Foundation
On Facebook –
https://www.facebook.com/peaceliteracyfoundation/
https://www.facebook.com/peacebuilderswalk
Postal address –
Jerry Douglas Leggett, Casa de Peacebuilder, P.O. Box 4024, Tubac, Arizona 85646