Meet the Staff of Miami Valley
Unitarian Universalist Fellowship
Minister – Rev. Kellie C. Kelly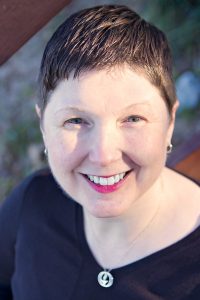 Although I was born and raised in the suburbs of Chicago, I have lived across the country as an adult: Los Angeles (where I learned that it can be 70 degrees in February), Honolulu (where I learned how to weed a taro field), and Norfolk (where I learned that pollen can look like yellow snow). I'm happy to call Dayton home as MVUUF's minister (since July 2018).
My parents and grandparents were all restaurant workers– my grandmother was a waitress, my grandfather a bartender, my father a cook, and my mother a waitress. Both my grandmother and my mother became single mothers. They each worked 60 to 75 hours per week to support their children. I myself am a third-generation single mother.
Raised Roman Catholic, I didn't realize I could choose my own religion until my teen and young adult years. During this time, I explored alternatives from Robert Heinlein's science fiction novel Job: A Comedy of Justice to the Willow Creek megachurch to the Bahá'i faith. Ultimately, my spiritual and religious exploration brought me to Unitarian Universalism. I have been an enthusiastic UU since 2001.
To read more about me, please click HERE
Director of Music – Sara Davis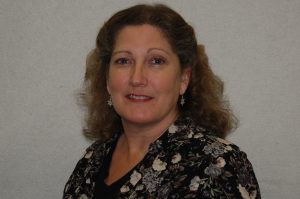 Sara grew up in Marysville, Ohio, and before graduating high school she was already earning money for college by playing keyboard in a country/square dance band and accompanying for the local Church of Christ. She earned her Bachelor of Music Education (B.M. Cum Laude, 1985) from Miami University, and taught elementary general music in both Middletown City and Springboro Community Schools.
Sara joined the UU faith in 1989 as a member of MVUUF (when they were located on Far Hills Avenue in Oakwood) where she and her husband, Tom, were married by the Rev. Chuck Thomas.  She has previously worked as a Music Director for the Loveland United Methodist Church and the Lebanon Theatre Company, and as a volunteer for many years with the Mason Community Players.
Sara and Tom have two grown children, Eric and Laura, and live on two quiet acres in Clearcreek Township with their giant Lab, Leo.
Fellowship Administrator – Jennie Freiberger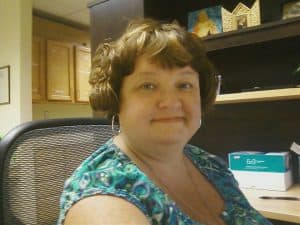 Jennie has the friendly face and voice that greet you – via phone or in person – at the Fellowship, ensuring the office runs smoothly. She's been Administrator since September, 2013, and is kept busy greeting visitors, preparing the weekly bulletin, monthly newsletter, Sunday deposit, new member paperwork, and anything else that needs doing!
Jennie grew up on a farm in Tipp City, graduated with a Bachelor of Arts in English/Creative Writing from Miami University (1987), and has worked in a law firm, an environmental services company, and 15 years in church office work before coming to MVUUF. She married her husband, Kevin, in 1990, and they have two adult daughters, CaraLynn (and her husband, Brian) and Samantha, as well as two beloved dogs, Hootie and Lucy. Jennie enjoys spending time with family, working in her garden and on various art projects, and spending "quality time" with her Kindle! You can reach Jennie at jennief@mvuuf.org or 937-436-3628.